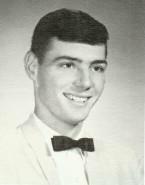 ---
Charles Blank - SJHS Class of '68
---
Charles and his wife Joyce live in Runnemede, NJ. They have 5 children: Carol, Chris, Anne, Misty, and Matt. Charles is a teacher/coach in Washington Township.

His e-mail address is charlie.blank.53@gmail.com
---
FROM THE 2003 YEARBOOK UPDATE:
Charles Blank - Runnemede, NJ

Accomplishments: God blessed me with five great children; three of my own and two step-children.

Memories: Worst - Yak using my car senior year Thanksgiving Day football game; he totaled it and I caught hell. Funniest - The total experience of sophomore year in room 105.

Future: Live on the Jersey shore, fish, golf, and enjoy my golden years.
---
FROM THE 2018 YEARBOOK UPDATE
Charlie Blank - Williamstown, NJ
Accomplishments:
Married 30 years to Joyce, 5 children, 2 step, 3 mine, 13 grandchildren
Graduate U. of Maryland - 1972, BS in Education
Retired teacher and coach
Member of South Jersey Basketball Hall of Fame
Coach of the Year - South Jersey - 1980 and 2002
Marketing Education Teacher of the Year for the state of NJ - 2001
Washington Township Teacher of the Year - 2001
Memories:
Long days at St. Joe's
Football and basketball games at St. Joe's
Working with so many great young people over my 30 years as a HS teacher
Future:
Enjoy my remaining years with family and friends
Enjoy the Bisons Club