Ray Kopakowski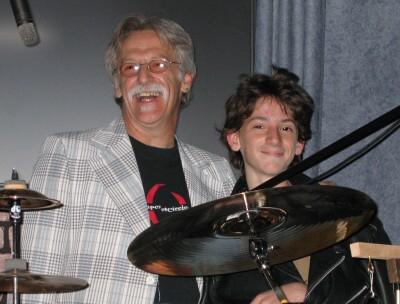 Here's Ray with his son Jay.

Ray lives in the Phoenix area, where he sings, plays drums and a whole assortment of other instruments with Doug Ballance.
Ray's e-mail address is Raykop0326@aol.com
Included below is an update e-mail from Ray, and it sounds like he's expanding his sphere of activity. The coffee house with puppet shows sounds like a blast.
Maybe some Punch and Judy??
---
Pre-Halloween 2005 - Ray as Mrs. Doubtfire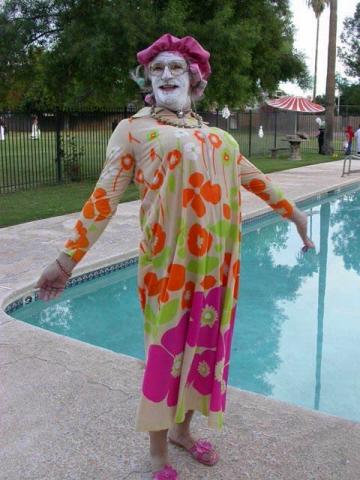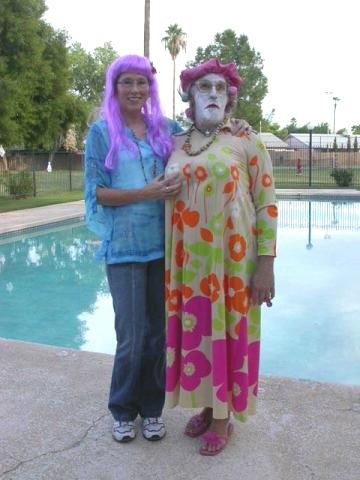 ---
November 19, 2004
Hi Frank,
Yea, I'm still with Doug, but the band is going through some changes. We found out our bass player was doing speed so we dumped him and are trying out people right and left, no easy task. I think we are going into the studio anyway. We have a lot of material. Doug wants to do a double CD. We can play the whole thing ourselves and still look for a bass player. Outside of that I'm trying to open a coffee house in the antique section of Glendale, AZ. I've had the idea for quite a while and now I'm ready. The place is 2800 square feet. One-third will be coffee house and the rest is for entertainment. I want to have old movies and puppet shows, music, and I'm going to sell my furniture and art and like that there. I'm looking for investors because it's much bigger than it sounds. You see, I also want to roast my own beans and eventually wholesale to markets and hospitals and beauty salons and you can stop me any time. How is everybody? It was nice seeing the PICS from the reunion. Man, are those people old. How you doing? Tell folks I said hi!
Ray