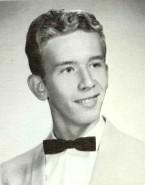 ---
Jim McHugh - SJHS Class of '68
---
Jim and his wife Lindsay live in Maplewood, NJ. They have two daughters. Jim graduated from Syracuse in 1971 and U. of Chicago Law School in 1974, and is Associate General Counsel with a NY investment bank.
---
FROM THE 2003 YEARBOOK UPDATE
Jim McHugh - Maplewood, NJ

Accomplishments: Getting married and watching my daughters grow.

Memories: Teachers from the truly abysmal to the occasionally inspiring; 350 lb. gym teacher; Namu; Sister Celsia (for whose art project I shamefully did a plaster of paris mold of the Blessed Virgin); "Springtime" (my first and final theatrical experience); forensics; graduation.

Future: Try to figure out what to do with the rest of my life.
---
FROM THE 2018 YEARBOOK UPDATE
James McHugh - Madison, NJ

Accomplishments: Currently teaching at Columbia University. 43 years of marriage to Lindsey.

Future: Travel - Tanzania and China this year.