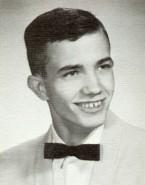 ---
Anthony Mitchell - SJHS Class of '68
---
Anthony lives in Voorhees, NJ. He graduated from Rutgers with a BA in Poli-Sci, and actually taught at St. Joe's from 1970-1979. Anthony earned an MA in Guidance from Glassboro, and is Guidance Director at Paul VI High.
---
FROM THE 2003 YEARBOOK UPDATE
Anthony Mitchell - Voorhees, NJ

Accomplishments: Teaching and coaching baseball (Varsity Coach) 1988-2003

Memories: Best - returning to St. Joe's to teach (1970-1979), worst - closing of St. Joe's

Future: Help build the athletic program at Paul VI.
---
FROM THE 2018 YEARBOOK UPDATE
Tony Mitchell - Voorhees, NJ

Accomplishments:
Rutgers Camden - BA in Political Science 1972
Glassboro State - MA in Student Personnel Services 1977
Teacher/Dean of Discipline – St. Joseph (Camden ) 1970- 1979
Teacher/Guidance Director/Baseball Coach - now Athletic Director, Paul VI HS 1979- present
Inducted into the South Jersey Coaches Hall of Fame 2004
Service Award from NJSIAA ( New Jersey State Interscholastic Athletic Assoc.) 2017
Sectional Award of Merit from DAANJ (Directors of Athletic Administrators) 2018

Memories:
St. Joe's friends

Future:
Will continue to work here as Athletic Director here @ PVI. This is my 49th year- want to do at least 50.