SJHS CLASS OF 1968 - LATEST NEWS
---
PLEASE CHECK YOUR EMAIL ADDRESS ON THE LISTING PAGE.
SEND ANY ADDITIONS OR CORRECTIONS TO FPIOTROWSKI@GMAIL.COM.
---
June 11, 2020
The Bisons Club 2020 Tom Byrne Scholarship Award winners are:
• Rachel Washart - Granddaughter of Joe Washart
• Maria Sisca - Granddaughter of Logan Shaffer
• Brianna Broccoli - Granddaughter of Larry Dombrowski
• Emily Johns - Granddaughter of Charlie Blank
• Nico Scavetta – Grandson of Sonia Spuler
• Dean Kurpicki – Grandson of Jerome and Diana (Glemser) Kurpicki
• Nicholas Sanders – Grandson of Joe Washart
---
February 14, 2020
The SJHS Bisons Club is now accepting applications for the 2020 scholarship award through May 15, 2020. The scholarship program is open to all children, grandchildren and great grandchildren of SJHS alumni; and applies to high school graduates going to college, and college graduates going to grad school. To be eligible for a scholarship it is not necessary for alumni to be members of the Bisons Club. In 2020 there will be a minimum of two $500 scholarships to be awarded on or about June 15, 2020. Details concerning the scholarship program and application process can be found on the Bisons Club website – www.bisonsclub.com.
Bisons Club membership is open to all alumni of SJHS. Membership is a onetime fee of $10 and you will be included in all newsletters and event notifications.
---
November 21, 2019 - Maureen Seebode Warriner Obituary
Maureen was a member of our class as a Freshman and Sophomore.

Maureen Warriner, age 69, of Germantown, MD, passed away on Saturday, November 16, 2019. She was the daughter of the late Calvin and Claire Seebode. Maureen was born on May 30, 1950, in Camden, NJ. She moved to Maryland with her family when she was in her teens and graduated from Central High School in Capitol Heights, MD.

Maureen is survived by her son, Matthew Warriner, and his wife, Heather; her daughter, Michele Reed, and her husband, Patrick; and her three beloved grandchildren, Alyssa, Danielle and Luke Reed; as well as her brother, Steve Seebode, and his wife, Melody; and her cousin, Mark Traversa, his wife, Tyndall, and their children, Genevieve and Julian.

Visitation will be held at DeVol Funeral Home, 10 East Deer Park Drive, Gaithersburg, MD 20877 on Wednesday, November 20, 2019 from 6 p.m. to 8 p.m. where a funeral service will be held on Thursday, November 21, 2019 at 11 a.m. with Rev. M. Valentine Keveny officiating. Interment will be held privately at Gate of Heaven Cemetery, Silver Spring, MD.
---
November 21, 2019 - Father Pie Obituary

George Pieczonka (1935-2019) was born and raised in Camden, New Jersey. In his young idealistic adulthood, he was ordained a Catholic Priest on May 25, 1963. After several years a priest, he left the priesthood to marry Ann Sultana, a nun of the Sisters of the Atonement, who also left her vocation to marry. They married in JULY 1970. George and Ann had two children, Georgann and Aaron. In 1972 he moved his family to California to be closer to Ann's large extended family. They lived in Marin and then Sonoma. While in Sonoma George and Ann adopted a teenage daughter, Shirley Palomino. They lived a good life together and were involved in a life of hard work and charitable acts. Some say, "once a priest, always a priest" and George certainly felt that way. George was always concerned about social justice and wanted to reform/change the church. He once said, "I seek a loving growth, not absolute answers." Ann preceded him in death in August 2001. After several years living without a special partner, in 2010 he met Joan Bennett on Match.com. He moved to American Canyon later in 2010 and George and Joan enjoyed a loving relationship over the next nine years.

He died after a long battle with heart disease. In his early years in American Canyon George tried to help American Canyon's Holy Family Church prepare to build a new church. His energies however were sidetracked as he became passionate about the mission and work of Molly's Angels in Napa, which is to provide free transportation for seniors to and from doctors' appointments. He became Molly's prime representative in American Canyon. He developed by-laws for the organization and he was chair of the board for several years and resigned in 2019 for health reasons. His life was an exemplary life of love and service and he touched the hearts of many people.

He leaves his children Georgann Geist (Joe) and their daughter, Addison; Aaron Pieczonka (Kelly) and their daughters Payton and Senna; Shirley Palomino and Joan Bennett his loving partner, all of whom he loved dearly. He loved and was loved by many nieces and nephews and their families. He will be, and is already being, missed, by his many family and friends.

To honor George's legacy, in Lieu of flowers, the family prefers donations to Molly's Angels, 433 Soscol Ave., Napa, CA 94559. Memorial services are delayed because of the pending holidays, to his birthday, Saturday, January 11th. George's classmate, Msgr. Casimir Ladzinski will officiate at a Celebration of Georges life at 11:00 a.m. at St. Leo's Catholic Church, 601 Aqua Caliente Road in Sonoma, followed by a continuing celebration at the Veteran's Hall, 126 1st. Street, West Sonoma. All who knew and loved George are invited to attend.
---
June 7, 2019
2019 Tom Byrne Memorial Scholarship Awards Announcement

Here's the link - Awards Announcement
---
October 26, 2018 - Here's a photo of Bill Park, Frank Piotrowski and Chester Basara that was taken at the recent St. Agnes grade school reunion.
---
October 26, 2018
The Camden County Board of Freeholders presented the 2018 Sports Hall of Fame Induction Ceremony and Dinner on Thursday, October 25th at the Crowne Plaza of Cherry Hill. Our own Charlie Blank was inducted.
Links - Charlie Blank, 2018 Sports Hall of Fame - Photo Gallery
---
October 26, 2018
Diane Scherrer has just uncovered a treasure. She found 9 issues of the Impressions student newspaper, 2 football game programs, the Springtime Operetta program, the Senior Prom program, and a Senior Memories booklet. I scanned everything and posted on the sjhs1968.com website. For the Impressions newspaper, I limited the scans to digital news clippings that contained the names of classmates.

Diane's message to everyone is:
I'm so glad I was persuaded to attend our fantastic 50 Year Class Reunion. It gave me the gratifying and golden opportunity to chat and reacquaint with fellow classmates not seen in five decades. Here are some high school reflections. Hopefully my scrapbook sharing recaptures fond memories for you.
Here is the link – Diane Scherrer's Memorabilia
---
September 17, 2018
Michele Dougherty reports: "Had a great day today! Started with presenting Vanna White with a $10,000 check at our Corporate Office for St. Jude's Hospital for Children. Then spent the afternoon at our Moorestown A.C. Moore store where she had her picture taken with over 300 people and signed a photo for them. Then I drove her to the airport! She is such a lovely woman! What a great day!"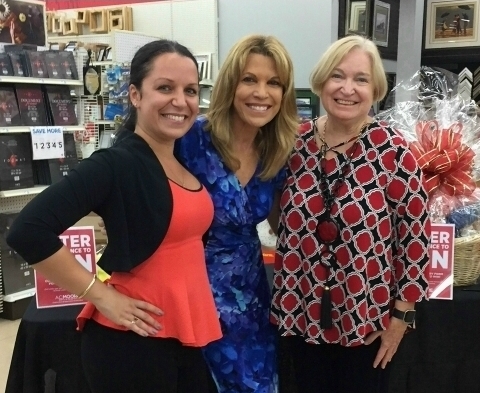 ---
CLASS OF 1968 - 50 YEAR REUNION
Friday, September 14, 2018
Villari's Lakeside, Sicklerville, NJ
Reunion committee: Barbara Walat Christy, Paul Christy,
Gail Senatore Dolente, Frank Frankowski, John Giacobbe,
Joe Miloszewski, Frank Piotrowski, Dianne DeMusis Sweeney
Link to 50 Year Reunion Web Page
---
The Bisons Club. What is it? It's a group open to all SJHS alumni, former faculty, and friends. Its main focus is supporting a memorial scholarship fund honoring the late Tom Byrne. Learn more at the website http://bisonsclub.com.
---
March 10 and 11, 2018 - Messages from Father Pie
From: George Pieczonka [mailto:george94503@gmail.com]
Sent: Sunday, March 11, 2018 5:11 PM
To: Frank Piotrowski (Gmail)
Subject: Re: St. Joe's 50th Anniversary

Frank, I taught at Holy Spirit High School (Atlantic City area) before I came to St. Joe's. I have kept in contact with two students from Holy Spirit for over 50 years.

I performed their weddings in April 1968. On April 15th I am renewing Kathy and Ron's wedding vows on their 50th wedding anniversary at a big dinner party at the Northfield, Country Club.

The following Sunday I will be doing the same for Barbara and Joe's 50th wedding anniversary.

It is amazing to me that over 50 years ago I can reflect on the happy-stance of joy of being involved with great St. Joe's kids bursting with affection, passion and tenderness.

For me now at 83 my goosebumps and warm tears for St. Joe's students express a beautiful, inviting and fascinating tune: What a Wonderful World of Memories.

A Personal Note: I had Prostate Cancer 3 years ago and overcame that; and a year ago open heart surgery including a pacemaker and I overcame that.

I wish you and ageing others: a good positive attitude and the will to overcome physical setbacks for this is where healing converts to a robust spiritual life.

Please relay this note to my St. Joe's friends, (better yet - to my spiritual brothers and sisters.)

Love to you and my family from St. Joe's. (Father Pie) George Pieczonka.


From: George Pieczonka [mailto:george94503@gmail.com]
Sent: Saturday, March 10, 2018 7:37 PM
To: Frank Piotrowski
Subject: St. Joe's Class of 1968 50th Anniversary

Hi Frank,

It is very good to hear about your class 50th Anniversary. There are many great memories for you and your class to celebrate from your youthful age.

I have many great memories also from my time at St. Joe's. It is amazing how the ageing process is always moving toward the future and away from significant beginnings.

I just turned 83. I never resigned from the priesthood. I just left and never looked back. So, I celebrated my 55 years as a priest. I was married to my first wife and after 31 years; she died in 2001 from ovarian cancer. I wrote and published a book about her and our relationship in 2007. It is still for sale on Amazon (by name, George Pieczonka or Title, Ann of Green Pastures.

We had two children. And, now three granddaughters.

I remarried. We just celebrated our 7th anniversary.

We are coming back to New Jersey this next month April from the 11th to the 24th. This most likely will be my last trip back to see family and friends. Age is catching up with me. Like, in 7 years I could reach 90. Smile.

Every now and then I go to St. Joe's website. If anyone remembers me say hello for me.

Frank stay healthy, wise and generous.

Sincerely, (Father Pie) George Pieczonka

Cell: 707-771-0715

George and Joan Pieczonka, 125 Andrew Road, American Canyon, CA 94503

george94503@gmail.com
---
March 22, 2018 - Just learned that Edward Johnson passed away on January 3, 2011

Edward Thomas Johnson on January 3, 2011, of Deptford. Age 61. Son of John Johnson, Sr. of Largo, Florida and the late Dorothy Johnson (nee Petersen). Brother of Helen Kosmidis of Deptford, Theresa Parisi of Hammonton and John B. Johnson, Jr. of Largo, Florida. Also survived by nieces and nephews. Edward was a musician and painter, and worked in the health care industry with family services.
---
March 1, 2018 - Just learned that Tom Sullivan passed away on November 13, 2015
Thomas J. Sullivan, on November 13, 2015, of Pine Hill. Age 65. Loving son of the late Glenn and Kate (nee Ragan) Sullivan. Dear Brother of Lynn Innocenzo (Salvatore), Dick Sullivan (Althea), Eileen Morris, and Terrence Sullivan. Beloved uncle of many nieces and nephews.
---
January 8, 2018 - Obituary
Joseph J. Swierczynski

Atco, NJ - Joseph J. Swierczynski, "Joe Sway," age 67, of Atco, NJ passed away suddenly on Friday January 5, 2018. He is predeceased by his parents Joseph and Theresa Swierczynski, and his first wife, Susan F. Powell. He is the beloved husband of Linda Swierczynski (nee Rappo). Loving father of Joseph Jr. (Kelly), Brian (Melissa), and Kevin (Jessica). Proud grandfather of Eric, Dillon, Kailee, and Allison. He is also survived and will be sadly missed by his brother Paul Swierczynski, as well as many nieces and nephews.

Joe was born in Camden, NJ and resided in Atco for the past 24 years. He was the owner and operator of Atco Raceway for many years. Prior to owning the raceway, he owned and operated Thriftway Supermarkets in Deptford and Echelon. Joe was a hard worker and was dedicated to his career. He also greatly loved his family and friends, as well as his cats and dogs.

Viewing will be held on Tuesday January 9, 2018 from 6:00 to 9:00 pm at the Leroy P. Wooster Funeral Home and Crematory, 441 White Horse Pike, Atco, NJ. A funeral mass will be held on Wednesday January 10, 2018 at 11:00 am at Christ the Redeemer Parish, Assumption Church, 318 Carl Hasselhan Dr., Atco, NJ. Kindly meet at the church for mass, there will be no viewing in the morning prior to the mass. Mausoleum entombment will follow the mass at St. Joseph's Cemetery, Chews Landing, NJ. In lieu of flowers, donations may be made to Jersey State Animal Rescue, PO Box 609, Atco, NJ 08004. Condolences may be shared at www.lpwoosterfuneralhome.com.
---
December 1, 2017 - Just learned that Jim Kuras passed away on July 4, 2002 in Rosamond, California.
---
September 16, 2017 - Bisons at the Beach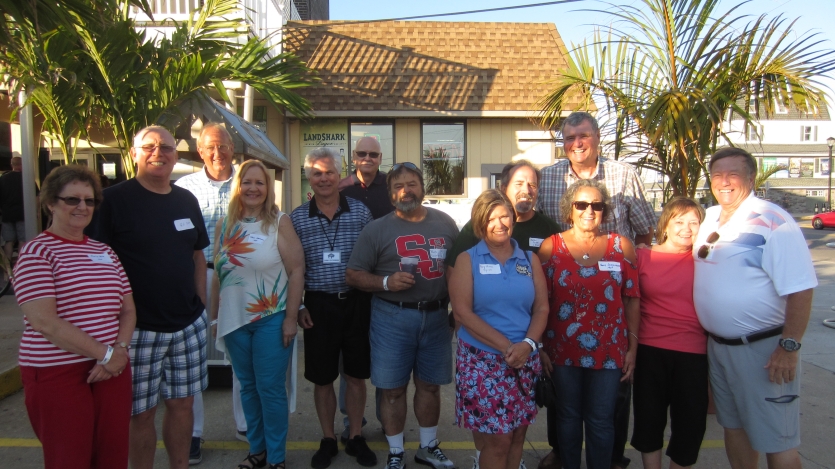 Maria Wilk, Ed Ott, Gary Bembenek, Theresa Martinac, Frank Piotrowski,
Chester Basara, Bob Gambino, Mary Anne Byrne, John Giacobbe,
Nancy Schoenborn, Charlie Blank, Lorraine Staniul Tanski, Joe Miloszewski
---
September 17, 2016 - Bisons at the Beach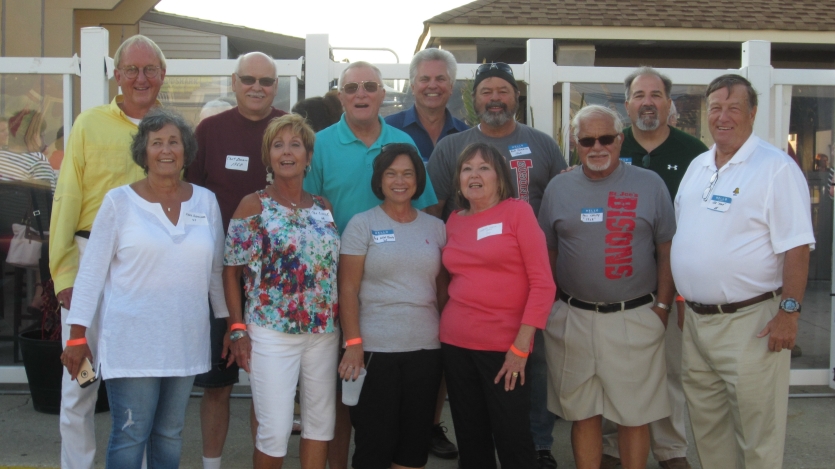 Gary Bembenek, Nancy Schoenborn, Chester Basara, Pat Polanski Ciseck,
Ed Kuzniasz, Barbara Walat Christy, Frank Piotrowski, Lorraine Staniul Tanski,
Bob Gambino, Paul Christy, John Giacobbe, Joe Miloszewski
---
May 4, 2016 Obituary from November 11, 2009 provided by Tricia Kraemer, Class of 1969
Mari Helen Bunkowski Beck April 29, 1950 ~ November 11, 2009
Resident of Martinez, CA, Mari was born on April 29, 1950 in Camden, NJ to Lawrence and Tillie Bunkowski. She passed away on Nov 11, 2009 at age 59 in Concord, CA. Mari was a resident of Martinez for the past 33 years. She was employed by Kaiser Engineers and UC Cal, Office of The President. Lovingly survived by her husband Joseph; brothers Lawrence Bunkowski of Delran, NJ and Ronald Bunkowski (Teresa) of Supply, NC and various nieces and nephews.
---
March 21, 2016 Obituary
Anthony A. Gfrorer, 65, of Hollywood FL., died Monday, March 21 at his home.

He was born June 5, 1950 in Camden, son of both the late Margaret (Rotchford) Gfrorer and August "Gus" Gfrorer of Camden.

"Gussie" as he was known to family and friends, was a graduate of St. Joseph H.S. in Camden. He was a Viet Nam veteran who served honorably as an Army artilleryman.

He worked as a motor vehicle inspector for the State of NJ and was a fireman for the City of Camden. He moved to Florida where he was engaged in the home improvement industry.

He was a colorful character whose friendship will be deeply missed by all who had the privilege to have known him.

He is survived by his sisters Patricia Galasso of Buena and Eileen Getty of Williamstown and his brothers Joseph Gfrorer of Berlin and John Gfrorer of Deptford, four nephews and three nieces.

A private memorial will be held by his family. Interment will be at St. Mary's Cemetery in Bellmawr. He will be greatly missed.
---
March 31, 2016 Obituary
Edward F. Mauriello, of Williamstown, on Thursday, March 31, 2016.

Loving son of the late Fred and Anna Mauriello. Devoted father of Tammy Giannone, Brad (Tracy) Mauriello and Fred (Lindsey) Mauriello. Loving grandfather of Leonardo, Luciana and Parker.

Relatives and friends are invited to his viewing on Tuesday eve. from 6:00 - 8:00 PM at the BELL-HENNESSY FUNERAL HOME, 420 S. Main St., Williamstown. Funeral Services will follow at 8:00 PM. Cremation private.

In lieu of flowers contributions may be made to the American Cancer Society, 1851 Old Cuthbert Rd., Cherry Hill, NJ 08034. - See more at:
http://www.bell-hennessy.com/obituary/Edward-F.-Mauriello/Williamstown-NJ/1605221#sthash.uMUwDqLF.dpuf
---
November 20, 2015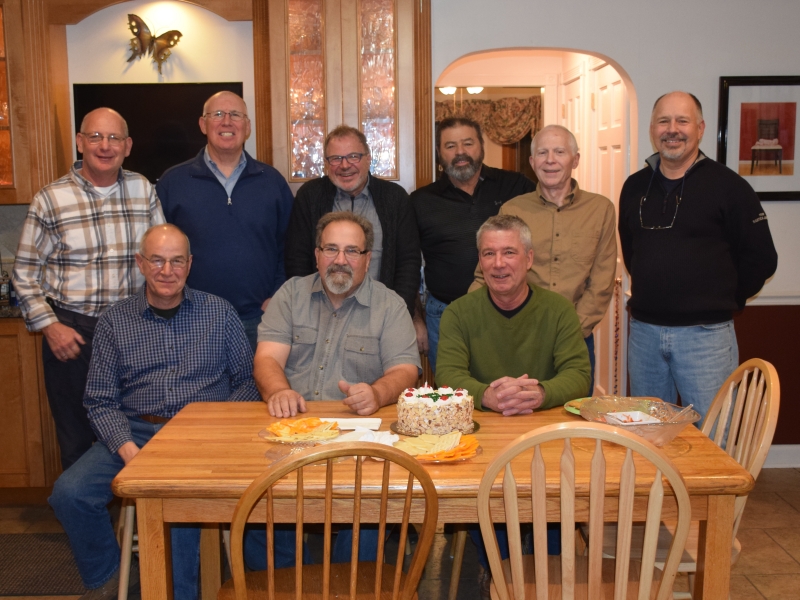 The Williamstown gang friends and family got together a while ago while Billy Valentino was in town from Beijing. From left to right, seated: Martin Costa '68, John Giacobbe '68, Chris Malinowski '69, standing: Tom Saia '68, Ed Ott '68, Bill Valentino '69, Bob Gambino '68, Mike Bull '69, Al Ott '70
---
October 5, 2015
Frank,
Not sure if you received this update. After the horrible death of Ray Wychowanec's son, followed by the hospital shooting / suicide attempt and Ray's wife's death, Ray passed and was buried a few weeks ago. He never regained consciousness. I talked to him many times over the past few years and just think he could not deal with everything any longer. Very sad ending of life for a great guy!
Michele Dougherty
---
September 29, 2015
Hi Frank, Just a quick bio. Have been living in Winslow Township since fall of '73. Current house 29 years. Will be married to a great wife, Gail, 45 years this November. Daughter, son, 5 grandsons all living in Florida. Travel on vacation as much as possible. Take family skiing out west every winter, also two weeks each summer on the beach in West Palm Beach, Singer Island. Retired from Verizon March 2013. Went back to work because I missed working on computer networks. Keeps the mind sharp. Have been in computers since graduation from SJHS. Currently working at Camden City Schools as Senior Network Engineer updating and maintaining their network. They were my customer for 15 years while with Verizon so I was a perfect fit. Life is short. So Gail and I are just enjoying life to the fullest.

Thanks, Vince
---
September 19, 2015 - Bisons at the Beach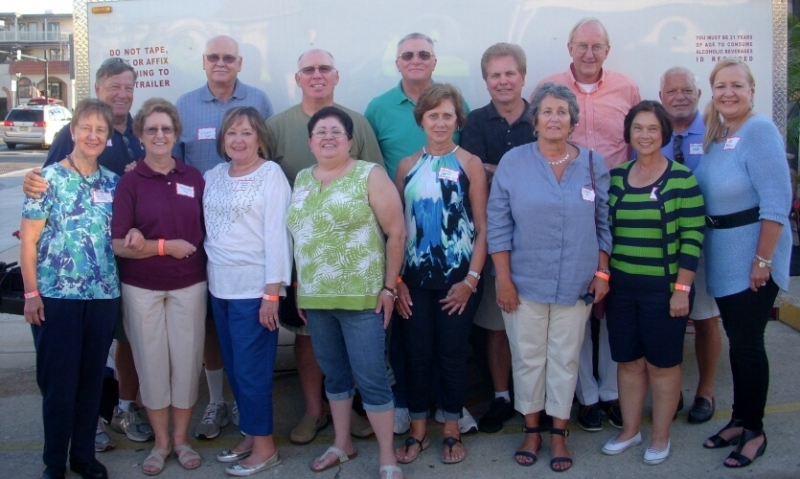 Girls: Janice Sarama Hidano, Maria Wilk, Lorraine Staniul Tanski, Mary Ann Bruno DeMarco, Linda Eggert Bisinger, Nancy Schoenborn Stubbs, Barbara Walat Christy, Theresa Martinac
Boys: Joe Miloszewski, Chester Basara, Ed Ott, Ed Kuzniasz, Frank Piotrowski,
Gary Bembenek, Paul Christy
---
January 13, 2015
Hi Frank. Please add my Gmail address terri.martinac@gmail.com to your list. I Googled St. Joseph Camden and found the Class of 1968 site. It was interesting to read about classmates and a little sad to discover those who are deceased. I just retired after a career with the NJ Department of Law and Public Safety and I am enjoying retirement. I look forward to hearing from classmates and thank you for keeping all of the good information available to us. Theresa Martinac
---
December 7, 2014

Five members of the Class of 1968 attended the 2014 SJHS Christmas Party:
Frank Piotrowski, Paul Christy, Barbara Walat Christy, Chester Basara, and Lorraine Staniul Tanski.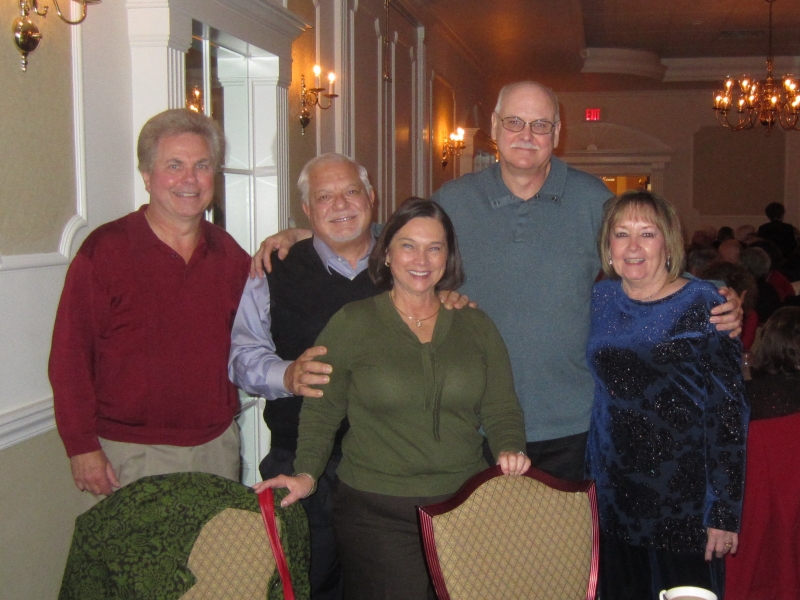 ---
September 13, 2014
Thirteen members of the Class of 1968 attended the 2014 Bisons at the Beach event in Sea Isle City. Chester Basara, MaryAnn Bruno DeMarco, Mary Anne Byrne, Dianne DeMusis Sweeney, Linda Eggert Bisinger, John Giacobbe, Vicky Graziosi Reid, Joe Miloszewski, Ed Ott, Frank Piotrowski, Tom Ranieri, Janice Sarama Hidano, and Maria Wilk were there.
Here's a link to the photos - 2014 Bisons at the Beach.
---
July 31, 2014
Frank Frankowski on NBCTV40 - Frank is currently the Interim Executive Director for the South Jersey Transportation Authority and appeared on the Atlantic City NBCTV40 news coverage of the 50th anniversary of the AC Expressway.
---
July 15, 2014
Sarah (Sally) Huntley - Obituary
AGE: 63 • Pennsauken - Beloved wife of Diane Snipas. Sister of Charlene Werner & sister-in-law of Joseph (Donna) Snipas. Survived by nieces Monica DiTullio, Nicole Werner-Pidgeon, Renee Werner & many loving relatives & friends. Relatives & friends of the family are invited to attend a Celebration of Life on July 26 between noon & 4pm at Seasons 52 Grill at 2000 Rte 38 Cherry Hill, NJ 08002. In lieu of flowers, donations are requested for Queen of Hearts Foundation PO Box 835 Hammonton, NJ 08037.
---
December 20, 2013
Article from February 2013 - Charlie Blank back on the sidelines as ACIT girls basketball coach.
---
September 7, 2013
The 2013 Bisons at the Beach attendees were Chester Basara, MaryAnn Bruno DeMarco, Mary Anne Byrne, Linda Eggert Bisinger, Vicky Graziosi Reid, Ed Kuzniasz, Frank Piotrowski and Maria Wilk.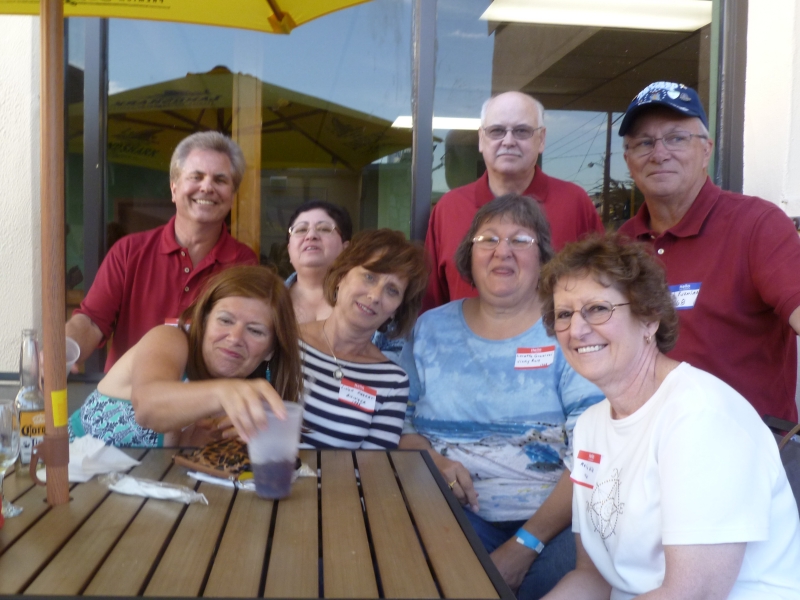 ---
August 22, 2013
Did you know that SJHS is now Capital Academy?
Check it out - http://capitalacademynj.com/
---
June 25, 2013
Peggy (Balunas) Kuzniasz - Obituary
August 30, 1950 - June 25, 2013
Margaret R. "Peggy" Kuzniasz (nee Balunas), on June 25, 2013, of Sicklerville, formerly of Glassboro. Age 62.
Beloved wife of 43 years of Edward Kuzniasz. Devoted mother of Peter Kuzniasz (Christina) and Kenneth Kuzniasz (Colleen). Loving Mom-Mom of Christopher, Kenny, Caiden and Andrew. Dear sister of Veronica Bottalico (Thomas) and Frances Simko (Joseph). Also survived by many nieces and nephew.
There will be a viewing from 6pm to 8pm Sunday eve and 9:45am to 10:45am Monday morning at GARDNER FUNERAL HOME, RUNNEMEDE.
Funeral Mass 12 noon Monday at Our Lady of Peace Parish, St. Mary's Church, Williamstown.
Interment private at the request of the family.
In lieu of flowers, donations may be made to the Autism Society of America, 4340 East-West Highway, Suite 350, Bethesda, MD 20814.
Family and friends may share memories at www.GardnerFuneralHome.com.
---
May 23, 2013
Conni Szczech's sister Carol has advised sjhs1968.com that Conni passed away on November 21, 2012, leaving behind a daughter Kelly Ann Hansen and two grandsons, Jerry Powers (14) and Gavin Powers (7).
---
May 23, 2013
Neil A. Ervolini - Obituary
AGE: 63 • Westmont
On May 18, 2013. Age 63. Of Westmont. Loving father of Lisa Johnson (William). Beloved grandfather of Amber Avis, Amanda Avis and Kyle Johnson. Dear brother of Michael Ervolini (Carol), James O'Brien (Sonya), Peggy Christie (Bob) and Marie Vitelkites (Joe). Also survived by many cousins, nieces and nephews.
Neil was an active member and devoted volunteer of the Joseph L. DeMarco, III Annual Golf Tournament held every September.
Relatives and friends are kindly invited to attend his visitation on Saturday, June 1st from 5 to 7 PM at the McCANN-HEALEY FUNERAL HOME: 851 Monmouth Street, Gloucester City.
In lieu of flowers, memorial donations are requested to: Joseph L. DeMarco, III Golf Scholarship Fund: 113 East Kings Hwy, Audubon, NJ 08106. Please write in memo: Neil A. Ervolini.
---
March 31, 2013
Hi Frank,
Just found your SJHS 1968 class website through classmates.com.
Thanks for all the memories and updates.
I am Margaret Carrasquillo (nee Margaret (Peggy) Del Pidio) class of 1968.
Please add my email address - cmargjo13@hotmail.com. I welcome all contacts from former classmates.
I am living in Pennsauken and semi-retired from a 30 plus year career in Early Childhood Education. Twenty years of teaching starting with preschoolers, mostly Head Start, and then as an infant toddler teacher in Early Head Start. I spent most of my career working in Camden. I spent the last 10 years of my career as an administrator (Center Director) in several centers. My most significant achievement was the opening of a new Child Development Center, Education Partners Early Learning Academy, in Deptford NJ which opened in 2008. I started the project as a consultant in 2006, eventually becoming the Director when the center was licensed for 146 students in September of 2008.
Fondest memories of SJHS:
The Guidance office with Father Camponovo and the group.
Mr. A's homeroom Junior year.
Sr. Annuncia's math classes.
Thanks for the webpage. Keep up the great work!
Love, Margaret
---
February 17, 2013
Ed Bilski Obituary
Edward J. "The Drummer" Bilski
AGE: 62 • Oaklyn
After a long illness, on February 15, 2013, of Oaklyn, NJ.
Beloved husband of Sandy (nee Livingstone), Loving father of Missy Tisdale (Andrew) and Craig Bilski, Cherished dziadzi to Jacob, dear brother of Richard Bilski (Diane) and dear uncle to Michelle Bilski. Ed was a very talented drummer and had a great love for The Blues, Family and Faith. Relatives and friends are invited to meet Tuesday morning from 9:00 to 10:30 at the CRERAN FUNERAL HOME, 400 White Horse Pike, Oaklyn, NJ. A Mass of Christian Burial will be Celebrated 11:00 am at St. Joseph the Worker Parish at St. Aloysius Church, 37 E. Haddon Ave., Oaklyn. Interment to be held St. Joseph's Cemetery, Chews Landing. There will be no evening viewing. www.creranfh.com
---
October 14, 2011
Del (Delmar) Weaver Obituary
NOTE: Del was a classmate of ours, but did not graduate with us in 1968.
On October 14, 2011, of Sicklerville, formerly of Camden. Age 62. Beloved husband of Anna (nee Morrow). Son of Florence Bonshock (Weaver). Dear brother of John Weaver. Uncle, best friend and riding buddy of Alan. Faithful companion Deuce. Survived by many brothers-in-law, sisters-in-law, nieces and nephews. Del was a member of the American Legion Post #247 of Camden and Post #1000 of Trenton. He was also a member of the NRA, Associated Locksmiths of America, Moose Lodge #548, HOG (Harley Owners Group), and the US Motorcycle Club. Del retired from the Philadelphia Navy Yard/NAVASSES. Relatives and friends are invited to attend his viewing Friday evening from 6pm to 9pm and Saturday morning from 8:15am to 9:15am at GARDNER FUNERAL HOME, RUNNEMEDE. Funeral Mass 10am Saturday at Our Lady of Hope Parish, St. Agnes RC Church, Blackwood. Interment St. Joseph's Cemetery, Chews Landing. In lieu of flowers, donations may be made in Del's memory to Gift of Life Donor Program, 401 N. 3rd Street, Phila., PA 19123 or to Samaritan Hospice, 5 Eves Drive, Suite 300, Marlton, NJ 08053. Family and friends may share memories at www.gardnerfuneralhome.com. Del is now riding in Harley Heaven.
---
August 14, 2011
Jane Fanuka Obituary
NOTE: Jane was a graduate of St. Agnes in Blackwood and was with the Class of 1968 for freshman year. When her family moved to Cherry Hill, she transferred to Cherry Hill H.S.
On August 14, 2011, of Pine Grove, PA. Age 61. Beloved daughter of Anthony and Mary Jane (nee Rihl). Devoted sister of Mary Ann Jose (Michael), Kathryn L'Esperance (Kenneth), Paul Fanuka (Brett), Thomas Fanuka (Lisa), John Fanuka, Nancy Hammond (Michael), and the late Margaret Fanuka. Lifelong best friend of Anita Small. Also survived by many loving nieces and nephews.

Jane attended American University majoring in communications and marketing. She was a successful marketing manager for Don Beyer Volvo in Falls Church area as well as president of her own company, Ad Vantage. Jane was passionate about many things, including her family and friends, her animals and her Philly sports teams. Most of all, Jane had an abiding faith in God that will carry her through to eternal life. Jane will be sorely missed by her loving family and friends.

Relatives and friends are invited to attend her visitation Friday 10:00 to 11:30 am at Egizi Funeral Home, 119 Ganttown Road, Washington Twp. Memorial Mass 12:00 pm at the Church of the Holy Family, Washington Township. Interment St. Joseph's Cemetery, Chew's Landing.

In lieu of flowers, donations may be made in Jane's memory to Carbon County Friends of Animals, 900 Walnut Avenue, Jim Thorpe, PA 18229 or Ruth Steinert Memorial SPCA, 18 Wertz Drive, Pine Grove, PA 17963.

Condolences may be shared with the family at www.egizifuneral.com.
---
April 25, 2011
John Asher Obituary
ASHER, John W. on April 25, 2011, of West Berlin, formerly of Fairview, age 60. Beloved father of John (Lisa), James (Stephanie), Joseph (Kimberley) and Jeffrey. Dear brother of Jimmy, Judy, Joyce and the late Janet. Loving grandfather of 6. Mr. Asher proudly served his country in the US Navy during the Vietnam War and was a former Camden City firefighter. There will be a viewing Wednesday morning from 10 am to 12 noon at Gardner Funeral Home, Runnemede. Funeral Service 12 noon Wednesday at the funeral home. Interment private at the request of the family. Relatives and friends may share memories at www.GardnerFuneralhome.com.
---
August 11, 2010
Ron Martin Obituary
MARTIN, Ronald E. On August 11, 2010, of Ft. Lauderdale, formerly of Camden and Bellmawr. Age 60. Beloved brother of Carol Martin of Ft. Lauderdale and cousin of Edward Suski of Absecon. Also survived by other cousins. Mr. Martin graduated St. Joseph's High School, Camden and Ft. Lauderdale College. Ronald was employed by Amtrack for 26 years and Comcast in FL for 11 years. Relatives and Friends are invited to attend his Life Celebration Friday 9:00 - 10:00 AM at the CIECHANOWSKI FUNERAL HOME, 1100 N. Black Horse Pike, Runnemede, NJ 08078. Mass of Christian Burial will follow 10:30 AM at St. Joseph's Church, 1010 Liberty Street, Camden, NJ 08104. Interment at St. Joseph's Cemetery, Chews Landing. Memorial contributions in Ronald's memory can be made to St. Joseph's Restoration Fund.
---
March 18, 2010
Remember Father Pie? Here's a link to his website - www.cup4change.com, where you can learn more about his writing and work related to the married priesthood.
---
February 15, 2010
Mike Hocker Obituary
HOCKER, Michael T. Age 61, of Williamstown passed away peacefully Saturday morning, Feb. 13, 2010, at his home with his family at his side. Born in Philadelphia, Mike was a lifelong resident of Williamstown. He graduated from St. Joseph's High School in Camden and later worked as a Union Carpenter for Local 8 in Philadelphia for many years. Along with his family, Mike was passionate about riding his motorcycle and sharing laughs with his many good friends. He is predeceased by his mother, Cass Hocker. Mike will be sadly missed by his loving family including his daughter, Megan Hocker (and Michael Trush); his son, James (and Shanti) Hocker; granddaughter, Joella Trush; father, William Hocker; brother, William (and Judy) Hocker; sister, Kathy (and Marty) Fulmer. Also survived by nieces, nephews and cousins. Mass of Christian Burial will be celebrated Fri. at 10am in Our Lady of Peace Parish (St. Mary's Church), 32 Carroll Ave., Williamstown, where viewings will be held Thurs. from 6-8pm and again Fri. from 9-10am. Interment St. Mary's Cem., Williamstown. In lieu of flowers, donations to American Diabetes Foundation, 1060 N. Kings Highway (Suite 309), Cherry Hill, NJ 08034.
---
September 12, 2009
Bisons at the Beach 2009.
Classmates,
This was a really nice event. The weather was great - upper 60's, no humidity, no wind - and everyone had a good time!
Believe it or not, there were many classes that had fewer representatives than the class of 1968.
Our class had Maria Wilk, Charlie Blank and yours truly in attendance, and we will be there again next year.
Hopefully we can have more classmates make this event in 2010.
Regards,
Frank
---
March 12, 2009 - 2009 Russian River Wine Road Reunion - Sonoma, California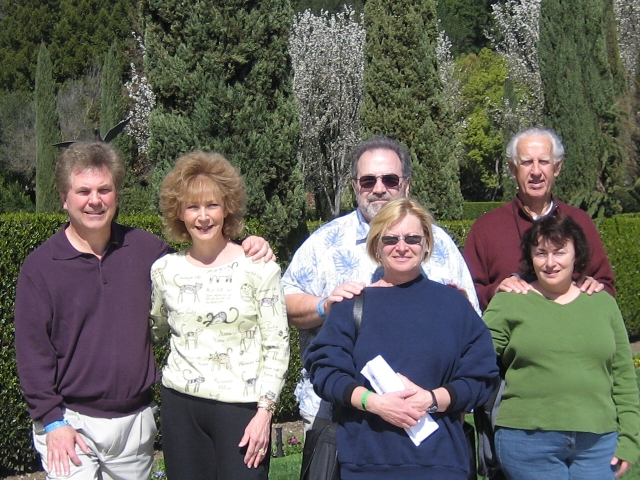 Frank and Ronnie Piotrowski, John and Jean Giacobbe,
and John and Dianne (DeMusis) Sweeney
---
October 2, 2008
Hi Frank,
Hello from Florida,
Here is an update for John Paprzycki
Married for 37 years to Debra Kwoka Class of 1970
Two children - Stacey 36 and Jeffrey 33
Three Grandchildren - Kaitlyn 11 years old - Ashley 8 years old - and Joshua 2 years old
Living in Florida since 1986
President of his own landscape company for the past 21 years in the Tampa Bay area, Florida
Take care up there,
Debbie (John's wife)
---
September 13, 2008
Frank,
I am sorry to tell you that my wife can't get the time off from her job at the hospital for us to make the reunion. Please let me know if you hold a 45th or 50th Reunion. I would love to see many of my old classmates from St. Joe's again, and I can always get another professor to cover my classes for a week or so, but Janet is an ICU Nurse in the NeoNatal ICU and is on call that weekend and cannot get anyone to cover her shift. Sorry to wait so long to reply but her work schedule for November is not posted until September. She has been trying hard to get someone to cover her shift, but this is a tough weekend with the Holiday and she has done her best to no avail. I wanted to let you know, and please say Hello to the class for me. Wishing you and all of our classmates all the best.

I remain your friend and classmate, who can still sing the French National Anthem in French,
September 4, 2008
I just found the Class of 68 website. OK, so I'm not the fastest car in the race, but I'm glad I did. I saw the list of everyone's e-mail addresses and I wanted to add mine. Maybe someone will remember me and want to get in touch with me for something. The address is
HAWKEYE90950@AOL.COM
.
Quick rundown: Did a two year stint in a seminary after graduation; survived the original Woodstock, survived 24 years in the Air Force and a tour of duty in Vietnam; I'm a happily married father of 6 sons and grandfather of 3 with a 4th on the way; my wife is Theresa (Tony Mitchell's sister)); I live in Williamstown right across the pike from John Giacobbe.
Look forward to hearing from you!
Larry Maiorano
---
September 4, 2008

Lillian Korch obituary

CZUBAS, LILLIAN M. (nee Korch) On August 31, 2008 of Stratford, NJ, age 57years.

Beloved wife of Joseph L. Czubas for 30 years. Loving mother of Jason Czubas and his wife Garson of Cherry Hill and Brian Czubas and his fiancée Dana Brandemarte of Glassboro. Cherished daughter of Frank Korch of Browns Mills and the late Irene Korch. Dear sister of Kathy Mitchell and her husband Mike of Wyomissing, PA. Devoted grandmother of Madison, Cameron and Gianna. Lillian will be fondly remembered by those who knew her as being a very generous person, always putting her family, friends, and many others before herself. She loved her family dearly and enjoyed spending time with them, especially going crabbing in the Barnegat Bay. She spent her working years as a transcriptionist in various local hospitals, and for the past 10 years at SJ Radiology in Voorhees.

Services and interment will be held privately at the convenience of the family. In lieu of flowers, memorial contributions in memory of Lillian may be sent to the American Cancer Society, 1851 Old Cuthbert Rd., Cherry Hill, NJ 08034. For more info or to email condolences, please visit www.lpwooster funeralhome.com
---
June 25, 2008
I have just set-up the official SJHS Class of 1968 YouTube Channel.
If you have video files that you would like to post, please let me know and I will provide you with the Username and Password, or you could e-mail the video file to me and I can post it for you.
"The Bison Cheer" is the title of the first video posted.
---
June 6, 2008

Ray Kopakowski was robbed! Cops get a "mighty" thank you! Ray Kopakowski, left, owner of the Mighty Cup Coffee House at 7021 North 57th Avenue in downtown Glendale, thanks Glendale police for their professional handling of a robbery at his shop May 8. Standing at the front counter is Officer Corley McClung, the first officer on the scene.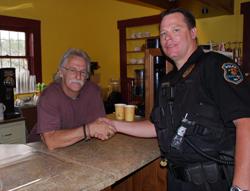 ---
April 16, 2008 - Ben Stein and our own Steve Kondracki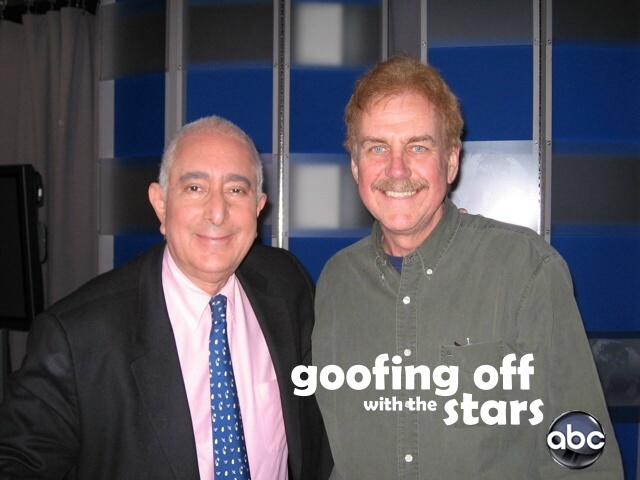 ---
November 5, 2007
Hi Frank !

I do remember you from high school. Janet (Cori) B. just sent me an e-mail saying you added my name to the "other classmates" list. Thank you.

Yes, I'd like you to add my e-mail address to the site - paulawtaylor@comcast.net. It will be nice to hear from others in our class.

I left SJHS and graduated from Audubon High School because my parents moved. It's funny, I went to Audubon's 25th year reunion, and most people didn't remember me. (Kids in my home room did though.) They remembered all the ones that stayed in NJ or had gone to school with them since grade school. By Junior year, most kids had their cliques and specific circles of friends.

I moved to Hallandale Beach, FL 4 years ago. It's just south of Ft. Lauderdale. I lived in or around Pittsburgh for 25 years.

I hope all is well with you and your family and look forward to hearing the occasional news about old friends.

Paula (Jozwiak) Taylor
---
September 4, 2007
Frank,

My twentieth bike tour of Europe started in Luxembourg in early June. I traveled with Jim Hall, a photographer and retired school principal, who had joined me on four previous trips. After visiting "Lux City", and the American military cemetery, we cycled to Trier, Germany, then along the Mosel river for about 4 days, until it joined the Rhine in Koblenz.

For the next two weeks we traveled along the Rhine through Germany, France, and Switzerland, until reaching Lake Constance. The large lake forms the border between Germany, Switzerland and Austria, in a major wine region, and is an extremely popular tourist destination for Europeans. The lake shores are dotted with resort cities and towns, connected by passenger ferries which criss-cross the lake frequently. From the lake we cycled towards Munich for two days, where we encountered the only hills on the whole three-week trip. Easy hills, really, but they slowed us down enough so that we decided to travel the final 50 or 60 miles by train to Munich, where we toured the city's beer gardens for two days. After that, Jim's wife joined him for two weeks of bike-free sight-seeing, and I returned home to plan next year's trip.

We cycled nearly 900 miles, but we had great weather, the route along the rivers was nearly all flat, and more than 95% of the route was traffic-free, bicycle-only roads.

One of the highlights of the trip was when we were finishing dinner at an Italian restaurant in Lindau, and "Snow White" and her 19 "Gnomes" trickled into the dining room. It was Snow's batchelorette party, and as per local custom, she was selling kisses for 50 (euro) cents apiece. Jim and I each bought two. The gnomes urged me and Jim to stay, even buying us another round of beer. We shared our table with half a dozen gnomes, and had lively conversation, furthering international understanding, and making for a memorable evening for us. You just don't see many gnomes in the U.S. At least not 19 at a time.

Steve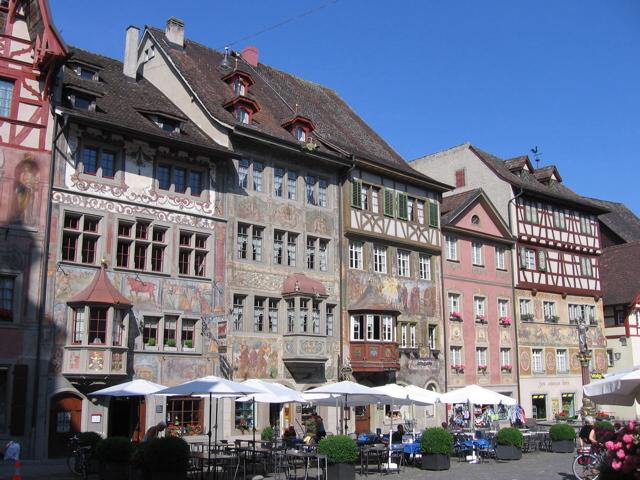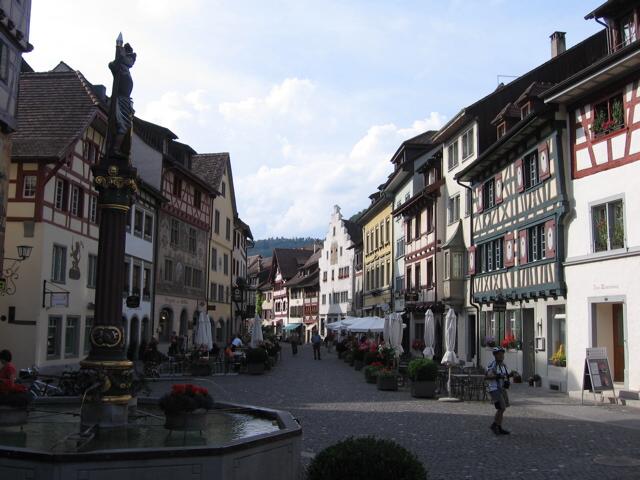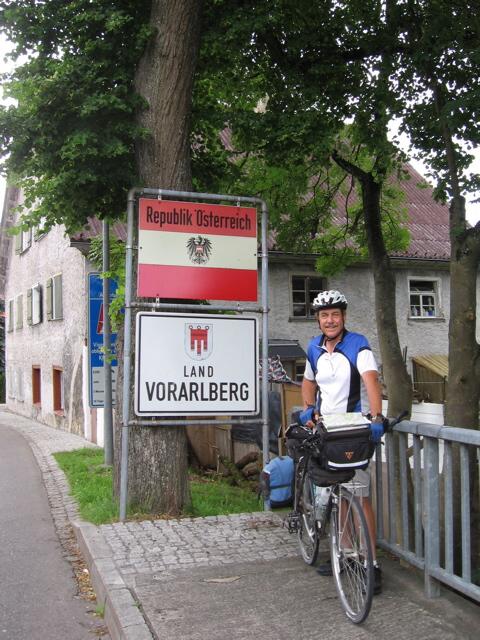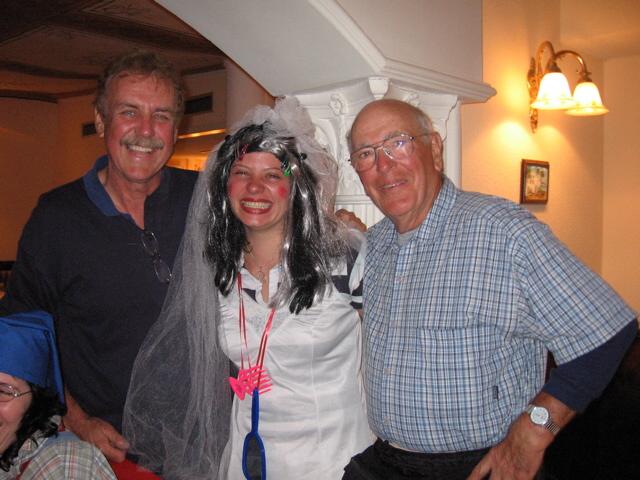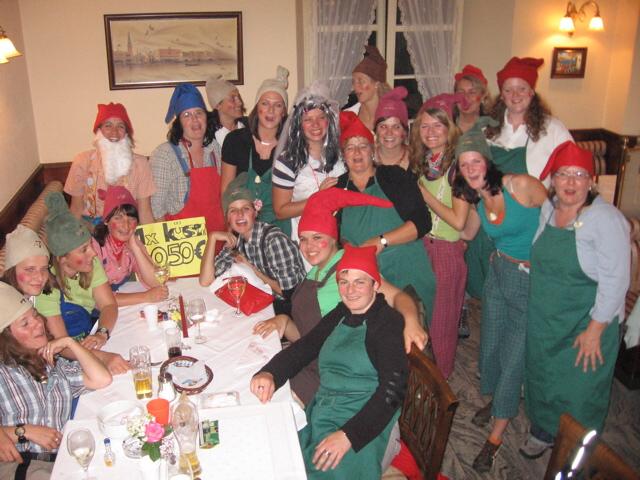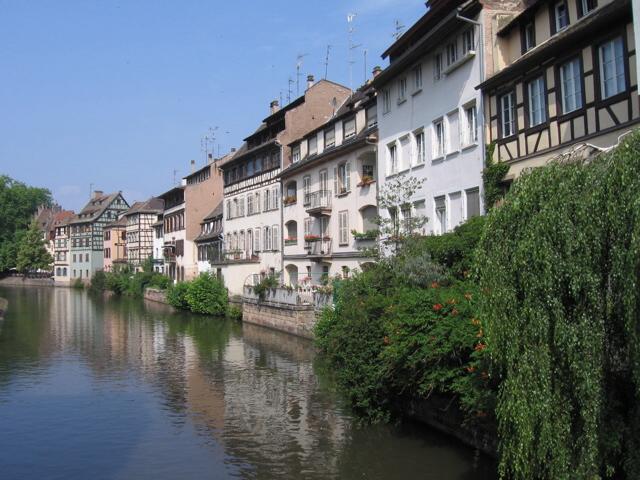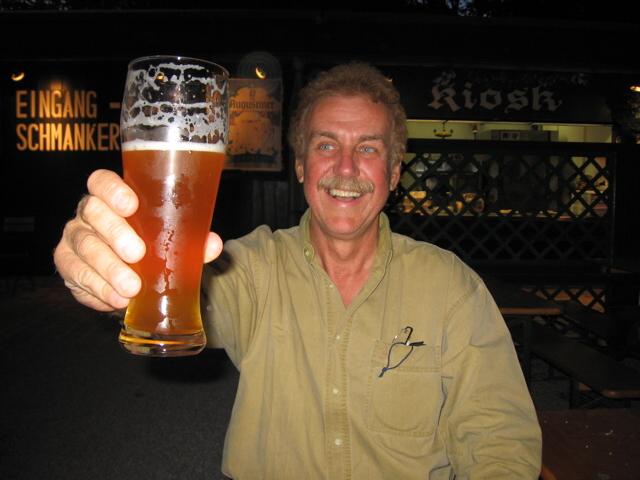 ---
August 5, 2007
Hi Frank,

We had a mini get-together yesterday with Janet and Drew Bartoszek, and Barbara and Paul Christy. What a great time! We met at Janet and Drew's house and enjoyed a sumptuous luncheon prepared by Janet and Drew, and spent time catching up on each other's lives. The guys then took off for the golf course and the girls to – where else – the mall. It was such a nice day and such a joy to know that the friends we had as teenagers can now be friends in adulthood (although I think all of us feel 18 inside still!). We went for a late dinner at the Cheesecake Factory – a favorite down here where we managed to snap a few shots. Too bad we never took pictures when we all gathered at Green Valley Farms – now those would have been interesting.

We think of you often and hope to see you if/when you come down this way.

Take care and I'll keep you posted on any more gatherings.

Love,
Peg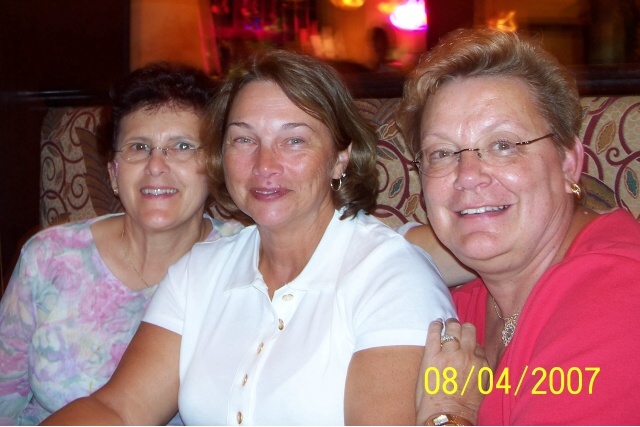 ---
July 13, 2007
Hi Frank,

I recently moved from Bumpass, VA back into the west end of Richmond, VA and while unpacking the numerous boxes came across the post card you sent out in 2002 letting us know about the SJHS web site. I noticed that the information I provided you back in 2002 has changed a little and wanted to give you an update.

My e-mail address is jmzb1b7b@hotmail.com. I am currently employed by Sedgwick CMS as a Safety Consultant working with self insured construction companies, wood product manufacturers, school systems and retail business. My two daughters Claire (30) and Jenny (28) are both married and I have one grandson age 8. My son Jim (22) is going into his senior year at Radford University and his major is Business Management. Plan to retire in a few years and move south to FL to enjoy the warm weather, great sunsets, fishing, golf and dining out.

Thanks again for keeping this web site up and running and bringing back so many good memories!

Thanks, Jim Zolty
---
May 11, 2007 - Frank becomes a "Citizen of Heaven" as he tends a roadside stand at a cocoa plantation in Trinidad.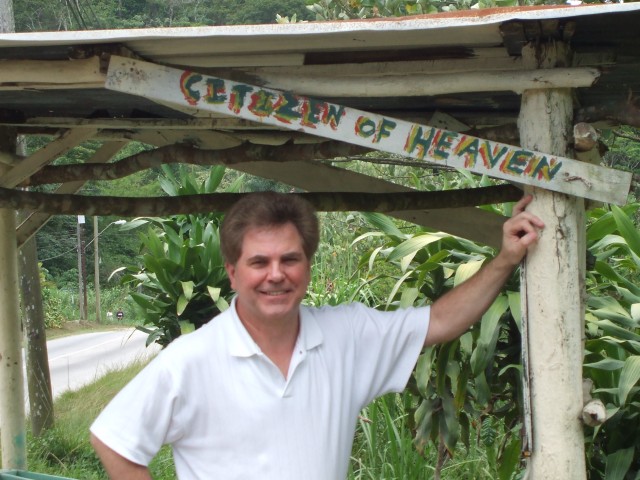 ---
May 5, 2007
Frank,

I've had some interesting jobs lately, but this week, I had one of the neatest experiences in my career as a cameraman. I covered the visit of Queen Elizabeth to Jamestown, Virginia, as part of the official crew for Jamestown and Colonial Williamsburg. Security was extremely tight for the event. I had to submit an application to the British Embassy in order to get credentials, and the amazing thing is, I passed the background check! Apparently they didn't have access to the records kept by George Plocharski at St. Joe's.

I didn't get particularly close to Her Majesty, but very few outside her official visiting party did. I shot the attached photo with one hand, while operating the TV camera with the other. That's Dick Cheney on the left.

Our video was made available to all news organizations, and was on NBC, ABC, and other network newscasts on Friday. I guess I did OK, because I'm going back to Jamestown next weekend to cover the President's visit. (It's the 400th Anniversary of the British arrival there).

Cheers,
Steve

P.S. In the last few weeks, I shot live satellite interviews for the O'Reilly Factor and The CBS Early Show, and for Inside Edition, I was an off-camera reporter, interviewing a witness in the New Jersey "suitcase murderer" trial.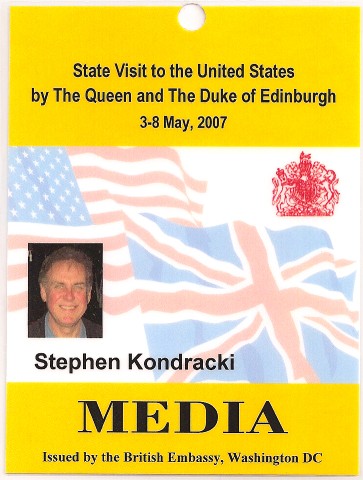 ---
March 30, 2007 - Frank was spotted in Paris, France, working hard again!
---
January 26, 2007 - Received some news about John Wisniewski from his brother Charlie. John is a disabled veteran living with his sister in Cherry Hill. He loves to hear from old friends and would be very pleasantly surprised if you were to get in touch with him. He can be reached at 856-427-0433 or sharkofsnj@msn.com.
---
January 7, 2007
Frank,

Another mini-reunion!

For several years in the mid-to-late '60's, a group of St. Joe's students from the Atlantic Avenue and 10th Street section of Whitman Park serenaded the neighborhood with Polish and English Christmas carols. Since 2003, we've been getting together after Christmas, and on Friday, Dec. 29th, the 4th annual reunion of "The Seven Sons" was held at The Pub near Camden. This year, six of the seven reunited. Joe Marini (Class of '69) was unable to attend. We didn't sing Dzisiaj w Betlejem, but we did break out into a chorus of Sto Lat, in memory of Monsignor Strenski!

In the exterior photo are Steve Kondracki, Larry Nelson and Joe Perpetuino (Class of '68) Denny Barolin ('67) Joe Pierzynski ('68) and Tom Kasprzak ('69). In the photo at the table are Joe and Pat Perpetuino, Joe and Carol Pierzynski, Steve Kondracki, Denny Barolin, Larry Nelson, and Irene and Tom Kasprzak.

By the way, this is the 3rd year we've met at the Pub. It was a good dinner and a good atmosphere (and a couple of us worked there in the '60's).
Steve Kondracki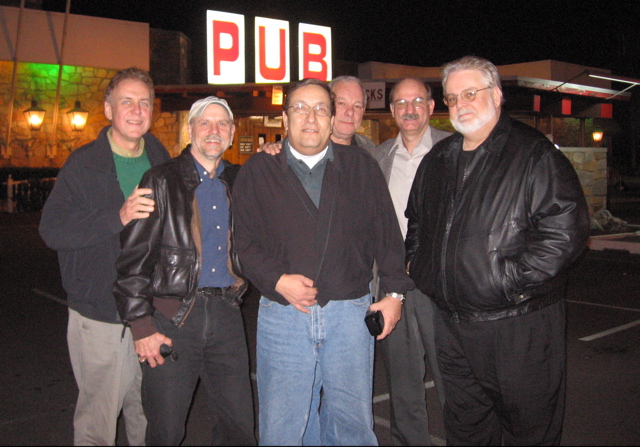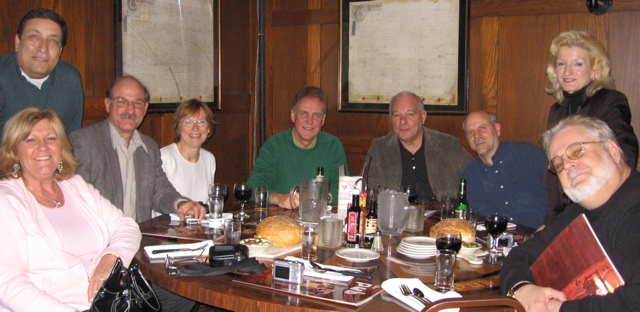 ---
January 2, 2007
Hi Frank,
Hope you had a great holiday season and that the New Year is good to you! Ed and I finally got together with Janet and Drew Bartoszek this past weekend. We met at The Cheesecake Factory in Boca Raton and spent about 2 ½ hours reminiscing about old times – it was great! Attached are a few pix that we managed to take. We hope to remain in touch now that we have reconnected. Any other Floridian's in the area – contact us and we'll see about getting everyone together. Again the invite stands – if you're going to be in the area and want to get together – contact us and we'd be happy to have you at our place!
Peace, love and happiness to all in the New Year!
Peg and Ed Kuzniasz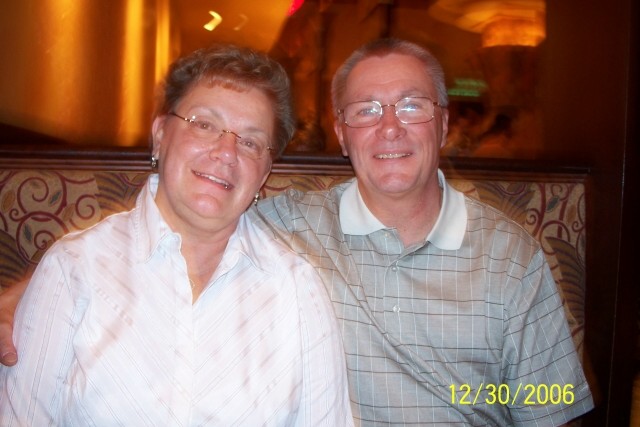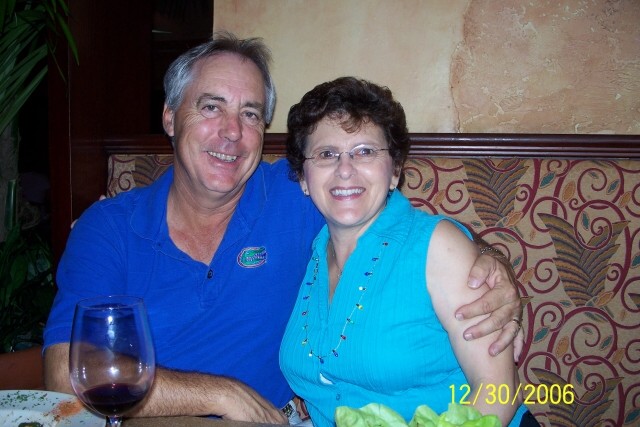 ---
November 5, 2006
Hi Frank,
My sister Conni was diagnosed last February with fallopian tube cancer. She has had several operations and now that the surgeon has cleared her, she will be finishing up with her chemo in the next couple of months. She asked me to contact you, and ask if you would post it on our St. Joe's web page. She just would like for those who remember her, would keep her in their prayers. She would really appreciate it.
I would like to thank you for keeping up with the class of 68, I enjoy visiting the site and seeing all the faces from the past.
Sincerely,
Carol (Szczech) Thomas
---
October 26, 2006
Hello Frank,

My name is Chris Gehringer and my mother is Kathy Slupski, class of 1961. I am a Cherokee H.S. graduate (1992) and currently a Cherry Hill resident. I'm currently working on a project and wanted your help in contacting all the members from the class of 1968.

I recently have set up a web site for St. Joe's that allows individuals to register themselves and maintain their own profiles, email and mailing address. This is a free site. My business is to sell this service to local schools, but for my mom I have set up a site for St. Joe's and hope it will help each of the classes keep in better contact with alumni.

I see you are keeping things active for the class of 1968 so I wanted to invite you to contact all the members of your class to join the new site. I didn't want to confuse your class members so I thought you could decide if it's best for '68 and share the news with them if you decide it's okay.
Please let me know what you think.

http://stjoe.schoolalumnisites.com

For four years I have been working with local schools on a web-based alumni service for local high schools. It's a customized, automated Alumni Database solution and thought that it might be something that would be an interest to you. I have just contacted most of the other email addresses on the Salt Lick site for the other classes. The site offers class directories, discussion forums, news posting, photo gallery links, and reunion postings.

My solution allows for alumni to self-register and self-update with no interaction needed from an administrator. This saves valuable time by allowing alumni to easily get posted and start sharing information with each other about happenings in their lives as well as upcoming reunions. At any time reunion planners would have access to the names, addresses and email addresses of all registered alumni for use in reunion planning, school notices, fundraising letters, etc. And any registered SJHS alum can email another alum at any time.

The site has been successfully set up in several local schools and over 13,000 students have self-registered.

Sincerely,
Chris Gehringer
---
October 11, 2006 - Steve Kondracki contributed four photos from the 20th reunion in 1988. With the help of many classmates, we've been able to identify everyone who appears in the photos. Here is the link.
---
October 5, 2006 - My unidentified source (actually another "roving reporter") has informed me that John Giacobbe hosted a small Class of 68 get-together in Florida last month. Click on this link to take a look at some of the photos.
---
September 5, 2006 - My unidentified source (actually a "roving reporter") has informed me that Joe Perpetuino just got married on August 26. To read more about the big event and take a look at some of the photos, click on this link.
---
June 17, 2006
Dear Frank,
Have enjoyed your website concerning the class of "68" and noticed that you did not have our e-mail addresses. Please add them if you will. I was very surprised to see that we actually had a reunion in 2003. We were told that plans fell through and there was not going to be one. Janet and I sure enjoyed the photos.
Just a brief note about Janet and I. We have been in SE Florida for 20 years and survived a vicious hurricane season last year; we just had a wedding for our younger son Eric who is a commercial pilot and our older son Ian is a biologist in the Everglades.

Regards,
Drew Bartoszek

Hope to hear from you

Janet Bartoszek (nee Cori) gatormom@acninc.net
Drew Bartoszek drew@fredbrowninc.com
---
May 26, 2006 - the return of Stefano!
Buon Giorno!

Well, I'm back. Sorry for the lack of updates, but internet access was difficult to find in Italy. And enjoying the food, wine and weather was more fun than emailing anyhow.

A quick summary: Four of us completed the 3 weeks by bicycle: me, Jim, Lanney and Naran. Steve O'Rourke only had 2 weeks vacation, and Lee finished the 2nd half by train (he's 82, you know). We had GREAT weather, rode over 600 miles, and ate dozens of pizze! The ice cream was especially good, but I still managed to lose 10 pounds.

The Italian people are friendly, and seem to like Americans. The motorists are very accommodating to cyclists, and everyone we asked was helpful with directions. Northern Italy is densely populated, however, and the roads are very busy, even in the countryside. We managed to find bike trails and quiet roads on most days. 95% of the route was flat. No flat tires or major mechanical problems.
The highlights of the trip were Venice (of course), Bergamo, Verona, Chioggia, and especially the lakes, Como and Garda, which were exceptionally beautiful. We also stayed in places we'd never heard of, which were very pleasant, like Salo, on Lake Garda. No place was disappointing, except for Milano, one of the least appealing large cities in Europe.

As soon as I figure out how to resize my photos and attach them to email, I'll send a few pictures. In the meantime, if you have any questions, please ask.

Happy Memorial Day weekend.
Steve
---
May 9, 2006 - Stefano Kondracki storms Italy by bicycle -
Ciao from Italia!
Well, the trip started out OK, six cyclists arrived at Milan Malpensa airport nearly a week ago, however, only 5 bikes arrived. One lost in transit. So we spent a day at a small hotel in a village near the airport, and awaited the arrival of bike six, 24 hours late.
So we started off on our journey a day late, but had a wonderful day cycling from Milano airport to Pavia, on a bike path along a canal almost all the way (43 miles) with little or no traffic, and great weather.
The second day, we followed what we thought was to be a small country road to Cremona, only to find that we were on a busy car/truck route. The weather was great, though. Since then, we have stayed mostly on small roads through farm country.
We have some small personality clashes in our group, mainly Lanney, who insists on speaking broken Spanish to the Italians (Spitalian) in a loud voice, and English to us, also in a loud voice. But his enthusiasm is hard to fault. I think he'll have the Italians speaking Spanish within 2 weeks. I have picked up a few dozen words in Italian, and am able to ask directions, get hotel rooms, read menus, etc.
The food has been great, even when we just settle for pizza or a snack. And Italian beer is better than I would have imagined. But where the Italians surpass us in food, they lack ingenuity in plumbing and efficiency in general. And what passes for breakfast is a joke, or would be, if we weren't paying for it. In some cases, it is small toast and jam, and espresso. The best has included some lunch meat and cheese, cereal and yogurt.
Today, we encountered heavy rain in the morning, so we opted for a train to the Adriatic resort of Rimini, maybe 100 miles south of Venetia. Tomorrow we may visit the tiny country of San Marino, and the next day cycle to Ravenna, on the way to Venetia. My bike computer lost all its data, but I think we've gone about 200-225 miles so far.
Hotels have been slightly more expensive than we anticipated, but not enough to break the budget, Tonight, Steve O'Rourke and I are staying in a modern hostel, which will help him stay on budget. I haven't stayed in a hostel since I toured Scotland alone in 1990. This one is very up-to-date.
Internet facilities have not been easy to find, but thankfully, this hostel has free access for its guest, but time is limited, so until next time, Ciao.
Stefano
PS- I have a mobile phone with me, with an Italian phone number, so if you want the latest weather from Northern Italy, or a first-person description of the canals of Venetia, plase feel free to phone me at 011- (from the US), then 39-328-568-5131. My incoming calls are free, but you may have to pay 15-20 cents a minute or more, depending on your long distance company. Italy is 6 hours ahead of NYC, and a good time to call is evening, here 6:00-9:30PM (Noon to 3:30 PM Eastern time) Grazie
---
April 25, 2006
Frank,
I visited Joe Perpetuino on Easter Sunday. He had just begun radiation and chemo therapy, and he's lost the ability to speak, but he was in good spirits. Physically, he looked great. He's even put on a few pounds since I saw him at Christmas.

In other belated matters, I've attached a photo of the small group of SJHS alumni which met at The Pub on the day after Christmas. (2nd photo, posed group, is better)

Left to right, top row: Larry Nelson and Joe Perpetuino. Bottom row: Steve Kondracki, Joe Marini ('69), Denny Barolin ('67), and Tom Kasprzak ('69) (Not shown: Miss Szumska, who was taking the picture....only kidding!)
We all lived in Whitman Park, Camden, and for a few years in the '60's, we formed a vocal group to sing Christmas carols (in Polish and English) in the neighborhood. Also in our vocal group was Joe Pierzynski.

Steve K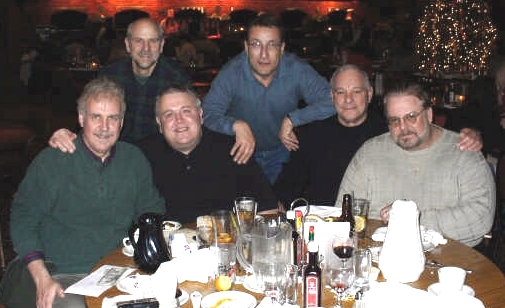 ---
March 23, 2006 -
Steve Kondracki just sent me the following info about Joe Perpetuino regarding Joe's recent surgery for throat cancer:
Frank,
I wanted to let you know that Joe Perpetuino underwent surgery for throat cancer about a month ago. His larynx was removed, and he's lost the ability to speak. He was in the hospital for nearly two weeks and went home about two weeks ago.
I was thinking about Joe because Friday, March 24, is his 56th birthday. Joe is staying with his girlfriend Patti at her house in Deptford. I just got off the phone with Patti and she tells me that Joe is feeling a little stronger, but it's still a struggle, and he faces both chemo and radiation therapy. She doesn't mind if Frank posts a notice for the Class of '68, letting everyone know that best wishes and birthday greetings can be sent to Joe via e-mail at jpp324@hotmail.com or to Patti's mailing address:
Patti Dalbow
510 E. Penn Blvd.
Deptford NJ 08096
(856) 217-5598
Text or voice messages can also be sent to Joe's cell phone 609-217-4563.
By the way, I'm doing well. I'm planning to tour Northern Italy by bicycle in May, and I expect to be around for the 2008 reunion. I may forward that photo from the Pub, and let you decide if it belongs on the Class of '68 web page.
I hope everything is well with you.
Steve
---
January 26, 2006 - Frank was spotted at Mango's Tropical Cafe in South Beach following a business conference in Miami - http://www.mangostropicalcafe.com
---
January 15, 2006 - A quick note from Peg and Ed Kuzniasz who are now in Boynton Beach in Florida.
Hi Frank,
Our new e-mail addresses are pegkuz@bellsouth.net and ekuzniasz@bellsouth.net – Ed is doing great at his new place and seems pretty happy. I am taking some time off to decide what I want to do next – volunteer or work for pay! We've had a wave of company lately and expect more, so my plans are on hold for awhile. Can't play hostess if I'm working!
Better go and get supper started.
Take care,
Peg